You are in:
Another flower for Germany
Germany - Another flower for Germany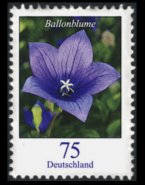 The new 0,75 € stamp
17/03/2011 - On January 3 the German Post Office added a new value to the 2005 flower definitives set. The new stamp, at 0.75 € face value, shows a bright blue Platycodon Grandiflorus, also known as Chinese bellflower.
The flower is native to Eastern Asia and arrived in Europe at the end of the 18th century. Its root is used as an anti-inflammatory in the treatment of coughs and colds but also in traditional cuisine as an ingredient in salads.

With this stamp the number of values of the set grows to 24.