Italy - New rates and new values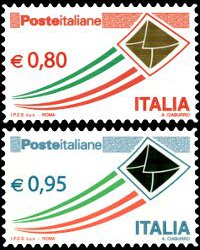 The two new stamps issued on 1st of December
10/12/2014 - On the 1st of December Italian Post Office increased their postal rates taking, among the others, the priority mail rate from 0,70 € to 0,80 € and the priority mail for abroad rate from 0,85 € to 0,95 €.

For this reason they issued two complementary values for the current definitives issue, named "Italian post".
The first one, with facial value of 0,80 € is red, while the second, with facial value of 0,95 €, is light blue.

The other characteristics of these two stamps are the same of those of the bigger size values of the issue: perforation 11 die cut, white adhesive paper with water glue, size of 40 mm x 24 mm. Both the stamps are sold in sheets of 50 pieces.